G.S.Paul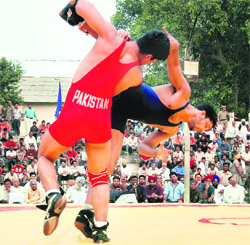 A bout in progress on Sunday. Tribune photo: Vishal Kumar
Amritsar, November 8
Indeed, the turnout was as big as it could get, despite the fact that the players, who do not have the privilege to be having household names, battled it out on the wrestling mat at Gol Bagh Wrestling Stadium, here today.

The occasion was the second leg of International Wrestling Competition between the wrestlers from India, Pakistan and Iran. Over 15,000 wrestling aficionados cheered, clapped, whistled and broke into jigs as wrestlers locked bodies to flatten their rivals.
Jalandhar wrestlers dominated the scene from very beginning and won the first two bouts. In the opening competition under 66 kg category, Joginder outclassed Pakistani wrestler Mohammad Sulman and in next bout, another Jalandhar based wrestler Om Prakash toppled his Pakistani opponent Mohammad Ashad in a keenly fought bout under 70 kg category.
It was only Mohammad Ali from Pakistan who opened the account after defeating the Indian wrestler Lovepreet Singh. In the next bout under 55 kg category, it was the Iranian wrestler Ahmadaloo Mohammad who beat Harish of Amritsar.
The fifth bout was grabbed again by the Pakistan's Uman Tarik in 74 kg category. He defeated his Indian opponent Sunny Bhopal. Mohammad Inam of Pakistan beat Rakesh of Haryana in 84 kg category, Vikram defeated Fahan Babar of Pakistan in 96 kg category, Zunair Bin Zahir of Pakistan beat Gurpal Singh of Jalandhar in 120 kg category.
Lalli of Jalandhar defeated Pakistan's Zahid Shahzad, Jagroop Singh of Amritsar beat Maleki Feiz Mostafa of Iran under same category. This competition is being organised by Punjab Wrestling Association on the occasion of birth anniversary of Guru Nanak Dev Ji. The first leg of the meet was held at Dera Baba Nanak yesterday and the third leg has been scheduled at Tarn Taran tomorrow. As many as 10 wrestlers from Pakistan and 8 from Iran turned up to participate in the meet.
GS Dhillon, the organiser, told that the main aim of organising this meet was to grab the attention of people especially the youth towards this sport. "This is a rural sport and has long roots in our tradition. We have also initiated to bring two countries-India and Pakistan- together, while burying the border battles, through this meet", he said.
LINK to MORE PHOTOS