Kolhapur World
Various preparations and arrangements have been done at the popular Khasbag Maidan as National-Level Hindkesari Kusti (Wrestling) Competition has started from today and viewers not only from Maharashtra and nearby states but from whole of India and some even from other countries will come. Many wrestlers from whole of India have participated.
Rajashri Shahu Maharaj built this ground for Kusti in 1912 on the lines of wrestling grounds in Rome. The key specialty of the ground is that the central wrestling arena can be seen clearly from any corner of the ground. The ground has completed a century in 2012 and hence Hindkesari Wrestling competition is hosted here.
Morning, Cities various Talim Sanstha, Groups, Associations had gathered and Sports Torch was be relayed from Panhala to Khasbag Stadium. The other competitions and weighing have started from today and the main wrestling will start from tomorrow 20 April. Photos of past Hindkesari events, Rustam-E-Hind and its winners have been displayed at the premises of the ground.

The Hindkesari Trophy which will be given to the winners of the competition was unveiled yesterday by the honored people who include Amruta Bhosale, Vijay Sardar, Subhash Chougule, Anil Patil, Sujay Hosmani, M. S. Patil, Arun Maniyar, Vilas Mirje, Sibhash Aavte, Amit Gaath, Sanjay Desai and Vasant Chauhan.
The Chief Sponsors of this event are Gokul Dudh Sangh and co-sponsors are Vasantrao Chougule Nagari Path Sanstha. The citizens of Kolhapur and other viewers are filled with excitement and joy as the grand competition has started. The wrestlers have been divided into 9 groups out of which one is an open group.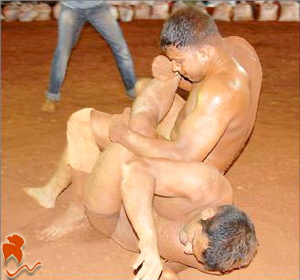 More than 250 wrestlers including previous Hindkesari Winner Rohit Patil, Punjab Kesari Kamaljeet Sindhu, Narendra Khutaniya from Delhi, Parvejkumar from Haryana, Mausam Khatri and many other wrestlers throughout India have participated. The competition will be judged by 30 International and 20 Indian Judges. Major Dhyanchand Trophy winner Gyansingh and Vilas Kature are chief judges.
Khasbag stadium is 1 kilometer South-East to Mahalaxmi Temple and 8 Kilometers South-West to Central Bus Stand of Kolhapur. The structure flaunts a seating arrangement for about 25,000 people around a Wrestling Ring. The wrestling season held every year has been an unforgettable experience everyone.
Evening at 4:00pm, all participants will adore Rajashri Shahu Maharaj's idol of Dasara Chowk with blossoms and procession will be carried out. Padmashree P. Kartarsingh, Indian Wrestling Mahasangh's President Ramshreya Yadav, Sachin Roshanlal, Yasin and many other people will be present at the competitions.